Case Studies
Prostar-xxl
Case:1
| Sex | Male |
| --- | --- |
| Age | 20 |
| Height | 6 Feet |
| Stent Used | 20 x 58 – 2Nos, 16 x 38 - 2Nos20 |
| Doctors | B.C. Srinivas & Team |
| Hospital | Sree Jayadeva Institute of Cardio Vascular Science & Res. |
Procedure
Total reconstruction of IVC was done by Dr. BC Srinivas and Team.
The IVC was totally occluded from junction of RV to Bifurcation. A path way was made from Jugular Vein by snaring the wire. Predilatation was done using a 20mm Balloon.
4 Stents were used as mentioned above. As there was a gap of 50mm from the 4th stent to Bifurcation, A WALL stent was used to cover up the gap.
Post Dilatation was done using an Accura Balloon.
Pre Stenting
Post Stenting
Flow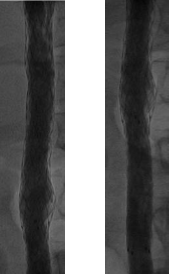 ---
Case:2
| Sex | Female |
| --- | --- |
| Age | 26 Years |
| Stent Used | 48 mm |
| Diameter | 18 mm |
| Doctors | Dr. KH Srinivas |
| Hospital | Jayadeva Institute |
| Case | Aorta Arteritis |
Lesion
Inflated Stent

Flow
---
Case:3
| Sex | Male |
| --- | --- |
| Age | 38 Years |
| Case | Budd-Chairi Syndrome |
| Stent Used | 28mm Unmounted Stent |
| Doctors | B.C. Srinivas & Team |
| Hospital | Sree Jayadeva Institute of Cardio Vascular Science & Res |
IVC - RA No flow
Stent at Junction
IVC – RA Flow Re-established
© 2016 Vascular Concept. All Rights Reserved